Retailers looking for an untapped market with unlimited potential need look no further than the City of Maricopa. In 2000, Maricopa was home to just 1,400 proud residents. Since that time, Maricopa has experienced unprecedented population growth and now boasts a population of more than 62,000. The City continues to experience solid population and economic growth. In 2020, there were 1,514 homes built and an estimated 2,000 housing units will be completed in 2021. In addition, more than 1,200 new multi-family units are in the planning or approval process in Maricopa.
(Source: U.S. Census Bureau, October 2021; City of Maricopa, July 2021; Elliott D. Pollack & Co. Forecast, December 2021)
With an average household income of more than $91,000, Maricopa residents are eager to stay close by when shopping for the goods and services they need.
Maricopa's many retail centers have ample parking and are easily accessible via major roadways. The City also offers wheelchair-accessible transit bus service for local residents to easily reach their shopping destination.
For more information on new retail projects in the review process or underway, please visit What's New Maricopa.
(Source: ESRI, Estimates July 2021)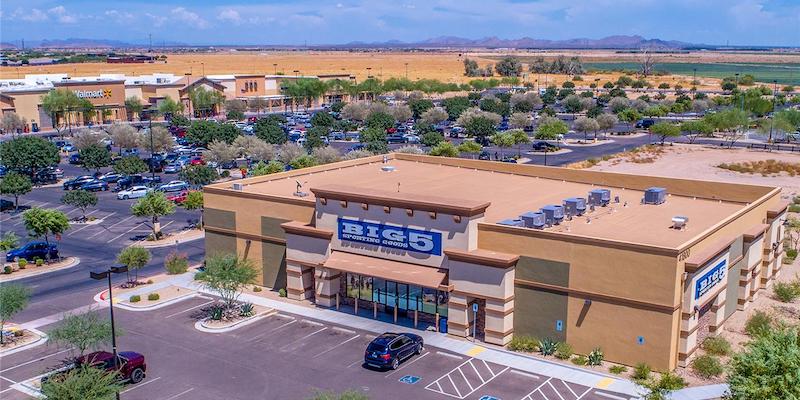 Join the national, regional and specialty shops already located in Maricopa and take advantage of:
• A trade area of 99,822 people within a 15-mile radius (Source: ESRI, 2021)
• A trade area of 1,030,252 people within a 25-mile radius (Source: ESRI, 2021)
• A young, high-income community wanting more local shopping and dining options
• Prime available land along State Highway 347, where more than 48,896 cars traverse daily and also along Maricopa-Casa Grande Highway where 11,838 cars pass daily (Source: ADOT, 2020 AADT Publication; ADOT, 2020 Transportation Data Management System)
• A business-friendly city offering incentives for projects meeting established performance criteria
Cobblestone Fiesta
Cobblestone Fiesta is home to ACE Hardware as the anchor tenant, as well as Chase Bank, KFC/Long John Silvers, Sonic, Tacos N More, Dry Cleaners and a Fitness Gym. 
Edison Pointe Complex
Edison Pointe, developed by Vintage Partners, is the newest shopping center in Maricopa. Ross Dress for Less, Goodwill Industries, and Planet Fitness have the largest footprints in the development. Additionally, free-standing stores at the front of the development include Big-O Tires, Brakes Plus, IHOP, Wing Stop and Dunkin Donuts. 
Fry's Marketplace
Fry's Marketplace is anchored by Fry's Groceries and Pharmacy and national and local retail stores populate the development including Jack-in-the-Box, Wells Fargo, The UPS Store, Firehouse Subs, Leslie's Pool Supplies, Sunrise Café, Plaza Bonita, Verizon, Say Sushi, Sally's Beauty Supply, Denny's and The Pet Club.
Maricopa Business Center
Maricopa Business Center is located at 44400 W. Honeycutt Road and is currently at full capacity with tenants that include MetroPCS, Outside the Box Marketing, Inc., My Maricopa Plumber, Sunrise Tae Kwon Do, Graysmark Academy, Hair Focus, Honeycutt Coffee, InMaricopa, Joe's – A Barber Shop, and ATA Martial Arts – Karate for Kids. 
Maricopa Fiesta
Located at the southwest corner of Smith-Enke and John Wayne Parkway, Maricopa Fiesta is home to Bashas' Food & Drug, Orbitel Communications, Subway, Nationwide Vision, H&R Block, Lil's Garden, Anytime Fitness, Native Grill & Wings and other retailers. Bashas' Food & Drug is the only grocery store in Maricopa boasting covered parking. In front of Bashas', you will find Circle K, Wendy's, Taco Bell, Bank of America Financial Center, Firestone Complete Autocare, AutoZone Auto Parts, Dickey's BBQ Pit and the Arizona State Express Motor Vehicle and Driver's License Center.
Maricopa Professional Village
Maricopa Professional Village is located on the northwest corner of Smith-Enke and John Wayne Parkway and is adjacent to Walgreens. The development includes Barro's Pizza, Cobblestone Dentistry, Pinal County Federal Credit Union, KJ Nails & Spa, Agave Family Physicians, Vidal Medical, Maricopa Eye Care, Ahwatukee Realty, Treasured Smiles Children's Dentistry, Maricopa Dental and Sonora Quest Laboratories. 
Maricopa Station
Maricopa Station is a free-standing retail development adjacent to the CVS on the northeast corner of Smith-Enke and John Wayne Parkway. Starbuck's Coffee, Chipotle, Rosati's Pizza, Jersey Mike's Subs and SportClips have stores in this development with Freddy's Frozen Custard and Steakburgers on a stand-alone pad. 
Sonoran Creek Marketplace
Sonoran Creek Marketplace is a grocery-anchored development, located on the corner of heavily traveled John Wayne Parkway and W. Edison Road. The center includes such retailers as Sprouts, Fry's Groceries & Pharmacy, Jack in the Box, Wells Fargo, UPS, Firehouse Subs, Leslie's Pool Supplies, Sunrise Café, Plaza Bonita, Verizon, Say Sushi, Sally's Beauty Supply, Denny's and The Pet Club.
The Wells
The Wells Shopping Center is located at the corner of northwest corner of Porter Road and Maricopa-Casa Grande Highway. It is a power center which opened in 2009 and this open shopping mall covers a 650,000 SF area. Walmart is the anchor of this development and has a mix of local and national tenants including Big 5 Sporting Goods, McDonalds, Great Clips, Maricopa Smiles Dentistry and Orthodontics, Maricopa Kids' Dentists & Orthodontics, Papa John's Pizza, Bahama Bucks and Maricopa Wells Veterinary Hospital.