The City of Maricopa is committed to building a healthcare community that can service the growing needs of its many young families and expanding population. Banner Health Center and Dignity Health's Urgent Care Center provide significant healthcare options for Maricopa's residents. In addition, several medical and specialty practices and labs have also established a presence in the city, delivering a wide range of healthcare offerings for residents. The City Government is working aggressively with major healthcare providers to establish acute care facilities in Maricopa and plans currently are underway to bring such expanded offerings to the community. In 2021, Exceptional Healthcare opened its first location in the City of Maricopa and Nutex Health announced its plans for a micro-hospital in Maricopa, expected to open later in 2022.
The first major medical facility in Maricopa, the center is the result of a public/private partnership between the City of Maricopa and Banner Health. Recognizing a critical need for medical services among Maricopa's rapidly growing population, the city started discussions with Banner Health back in 2006 with the partnership solidifying in 2010.
The center focuses on primary care and provides residents of Maricopa and surrounding communities with access to Family/General Medicine, Internal Medicine, Pediatrics and OB/GYN physicians. Ancillary services, including laboratory services, general X-ray imaging and patient education are also offered. One innovative feature of the center is the consult room, which connects patients in Maricopa to physicians and specialists from Banner's other branches via live video feed. The center has approximately fifteen staff members, including six physicians, six medical assistants and a radiology technician. Specialists are available at the facility a few times each week.
Banner Health plans to expand the 41,000-square-foot facility in the future as Maricopa's population continues to grow and additional medical services are needed. Two more phases are envisioned, which include expanding the facility and increasing staff. The center is unique from Banner Health's previous projects in that it is the first facility conceptualized and designed from scratch, based on knowledge acquired through construction and operation of its other branches.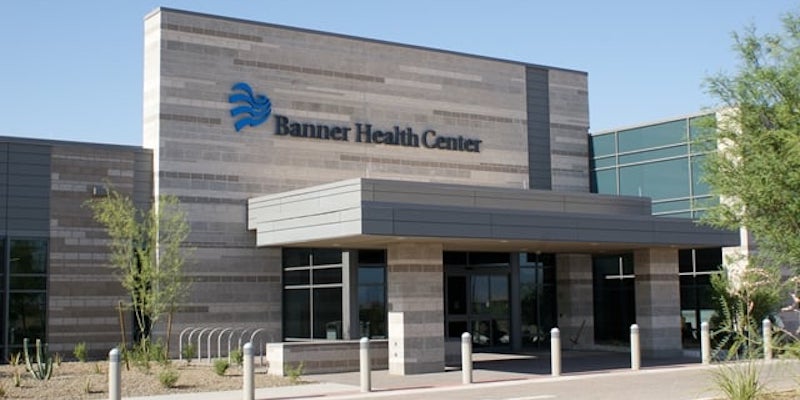 Dignity Health Urgent Care
Dignity Health Urgent Care opened in April 2013 and treats patients of all ages with non-life threatening illnesses or injuries that require immediate attention. Dignity Health Urgent Care in Maricopa is a medical facility that offers many services, including non-emergency illnesses, non-emergency injuries, and allergic reactions. Dignity Health Urgent Care in Maricopa is located at 20750 N John Wayne Pkwy, Maricopa, AZ.
Dignity Health Medical Group Family Medicine – Maricopa is a medical group that offers many services, including primary care, family medicine, and internal medicine. Dignity Health Medical Group Family Medicine – Maricopa is located at 21300 N John Wayne Pkwy, Maricopa, AZ.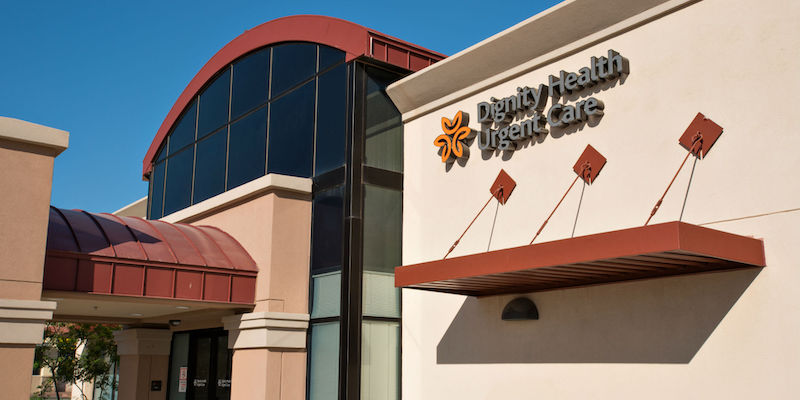 Exceptional Community Hospital – Maricopa
Exceptional Healthcare recently opened Exceptional Community Hospital – Maricopa in the heart of Maricopa on State Route 347. Phase One construction included the 20,000-square-foot facility, the first of its kind in the community. Within just a few weeks of opening to the public, Exceptional Healthcare announced it would embark on Phase Two of the construction which is said to include a new Fast Track care option to provide improved efficiency and patient care in the Emergency Department.
The state-of-the-art facility includes a specialty internal medicine hospital, a 24-hour emergency department, a digital imaging suite – including CT Scan, X-Ray, mobile MRI and ultrasound – an in-house laboratory, and outpatient and inpatient hospital beds for acute admissions and overnight observation of patients.
Additionally, in partnership with higher-level hospitals in the Phoenix area, Exceptional Community Hospital -Maricopa features a landing area for air ambulances to ensure the fastest transfer of patients needing a higher level of care.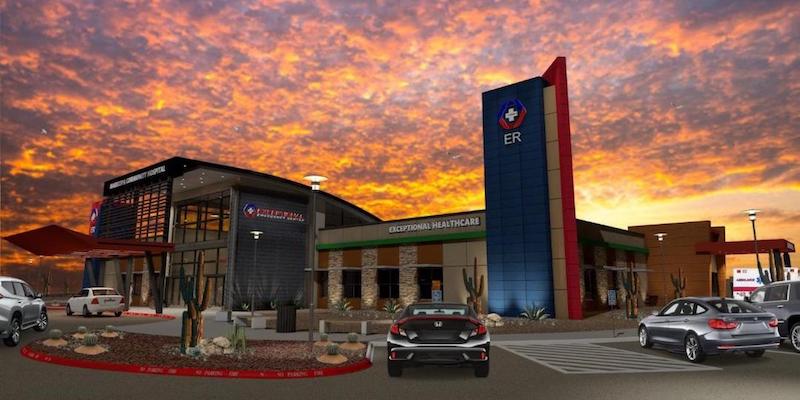 Nutex Health was founded in 2011 and is based in Houston, Texas. Nutex is slated to open and operate Maricopa ER & Hospital, the second hospital in the City of Maricopa. Maricopa ER & Hospital will be located on four acres of land it purchased at the southeast corner of John Wayne Parkway and Bowlin Road. The opening date for this Maricopa location is being determined.
Nutex Health operates micro-hospitals, free-standing emergency rooms and community hospitals in Arizona, Texas, Arkansas, Indiana, Kansas, Louisiana, New Mexico and Oklahoma.
Discussion are underway about the potential development of an Innovation Center which could include:
Research labs, co-working space and startup office space of about 100,000 square feet
Behavioral health and sports psychology facility with about 120 beds
Academic classroom, fitness center and multipurpose gymnasium building of about 100,000 square feet
Student/staff housing, auditorium and cafeteria building of about 80,000 square feet