Phoenix is No. 2 Market in U.S. for Industrial Development
PHOENIX, AZ – April 9, 2022 – COMMERCIALSEARCH
Based on provisional estimates, up to 592.5 million square feet of industrial space is currently under construction nationally. With industrial development gearing up and demand high, 2022 is shaping up to be the strongest year yet for industrial development. And Phoenix industrial development puts it right in the mix, making the list of 20 markets with the most industrial space under construction at No. 2, with an estimated 36.3 million square feet of industrial space currently being built.
---
READ ALSO: Here is the Phoenix commercial real estate outlook for 2022
---
Using property data provided by CommercialEdge, we analyzed how much industrial space we could expect to be added to the top markets in the U.S. this year. Notably, Dallas-Fort Worth stood out as the market with the most industrial space under construction for the second year in a row, while Amazon once again dominated the list of largest industrial properties scheduled for completion in 2022.
DFW Industrial Expansion Picks Up Steam With Most Space Under Construction
With 38 million square feet of industrial space scheduled to hit the market this year, Dallas-Fort Worth claimed the title of the industrial market with the largest projected expansion for the second year in a row.
Here, the strong supply currently underway was preceded by a decade-long upward trend in development. Specifically, more than 208 million square feet of industrial space was added to the Metroplex's inventory in the last 10 years. In addition to being a major logistical hub of the South, DFW has also benefited from a booming high-tech manufacturing sector — and the accelerated pace of industrial development in the metro reflects that.
Phoenix took the second spot for projected industrial completions with 36.3 million square feet currently under construction. In fact, demand for industrial space in Phoenix has spiked considerably in recent years, with low vacancies and major investments contributing to the metro's role as a regional distribution and manufacturing center.
Likewise, other major logistical hubs are also expecting strong years for industrial developments. For example, Indianapolis has 26.9 million square feet of space in the pipeline. In particular, Amazon is revitalizing employment in the metro's distribution and logistics sector. Similarly, the Inland Empire — one of the main logistical satellites of the greater Los Angeles area — has an additional 25.9 million square feet of space underway amid record-low vacancies in industrial properties.
Meanwhile, Chicago industrial space is expected to be supplemented by an additional 25.9 million square feet — a considerable amount for the Midwest's largest metro, despite supply here lagging slightly behind that in Indianapolis.
Even accounting for possible delays, high square-footage projections still highlight the draw of key regional transportation hubs for retailers and other companies with growing logistical needs, while also pointing toward another record-setting year.
Giga Texas Poised to Be 2022's Largest Industrial Completion; Amazon, Walmart & GM Also Record Entries
After delays from its initial 2021 targeted opening date, Giga Texas is now expected to be this year's largest industrial completion at a whopping 4.28 million square feet of industrial space in Austin.
Tesla's giant factory — which has already been producing electric vehicles on a limited basis since December — is scheduled for a full opening on April 7 with 15,000 attendees, an event that the company has taken to calling the "Cyber Rodeo." Once fully operational, the factory will produce the majority of the new Tesla Cybertruck and Semi models, in addition to limited production of other models. It will also serve as the company's corporate headquarters.
One other manufacturing center also made the list — General Motors' new battery plant in Warren, Ohio, which will span 2.8 million square feet of industrial space.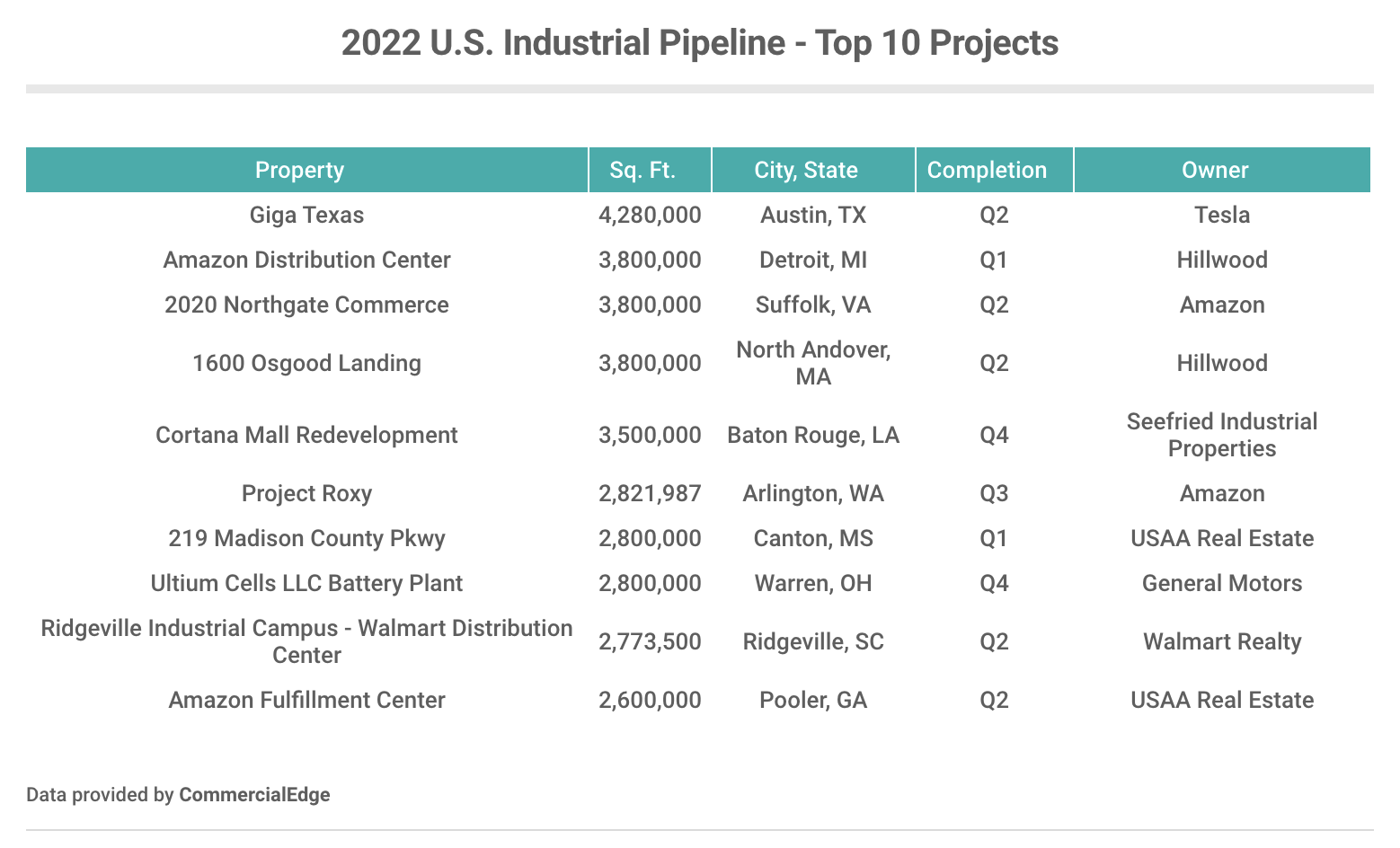 Unsurprisingly, Amazon is behind seven of the 10 largest industrial developments of 2022. The second through fourth positions are 3.8-million-square-foot Amazon warehouses in Michigan, Virginia and Massachusetts (two of which are being developed by Hillwood). The online retailer is also behind 2022's fifth-largest project — the redevelopment of Cortana Mall into warehouse space in Baton Rouge, La. — as well as two more fulfilment centers in Canton, Miss., and Pooler, Ga., which are being built to suit by USAA Real Estate for the e-commerce giant.
Only one other distribution center in the top 10 is not owned by Amazon: Walmart's 2.77-million-square-foot facility in Ridgeville, S.C. Clearly, while Amazon's huge logistical needs mean it now consistently builds the largest industrial facilities each year, other retailers — both online and traditional — are also major driving forces behind the growth of industrial.
Due to the delay of Giga Texas' opening, the 10 largest 2021 industrial completions were all warehouses owned or leased by Amazon. The largest of these was 7001 Vollmer Road in Matteson, Ill., at 3.86 million square feet. It was followed by the LogistiCenter in Wilmington, Del. — a landmark, five-story property with a footprint of roughly 800,000 square feet — that was purchased by Australian real estate investment firm Macquarie for $392 million last month.
Within the current context, industrial has become one of the stand-out asset classes of commercial real estate. And, with growing investments and 45 million square feet of industrial space delivered in the first two months of 2022 alone, this year is shaping up to continue the industry's recent upward trend.